Playset & Swingset Installation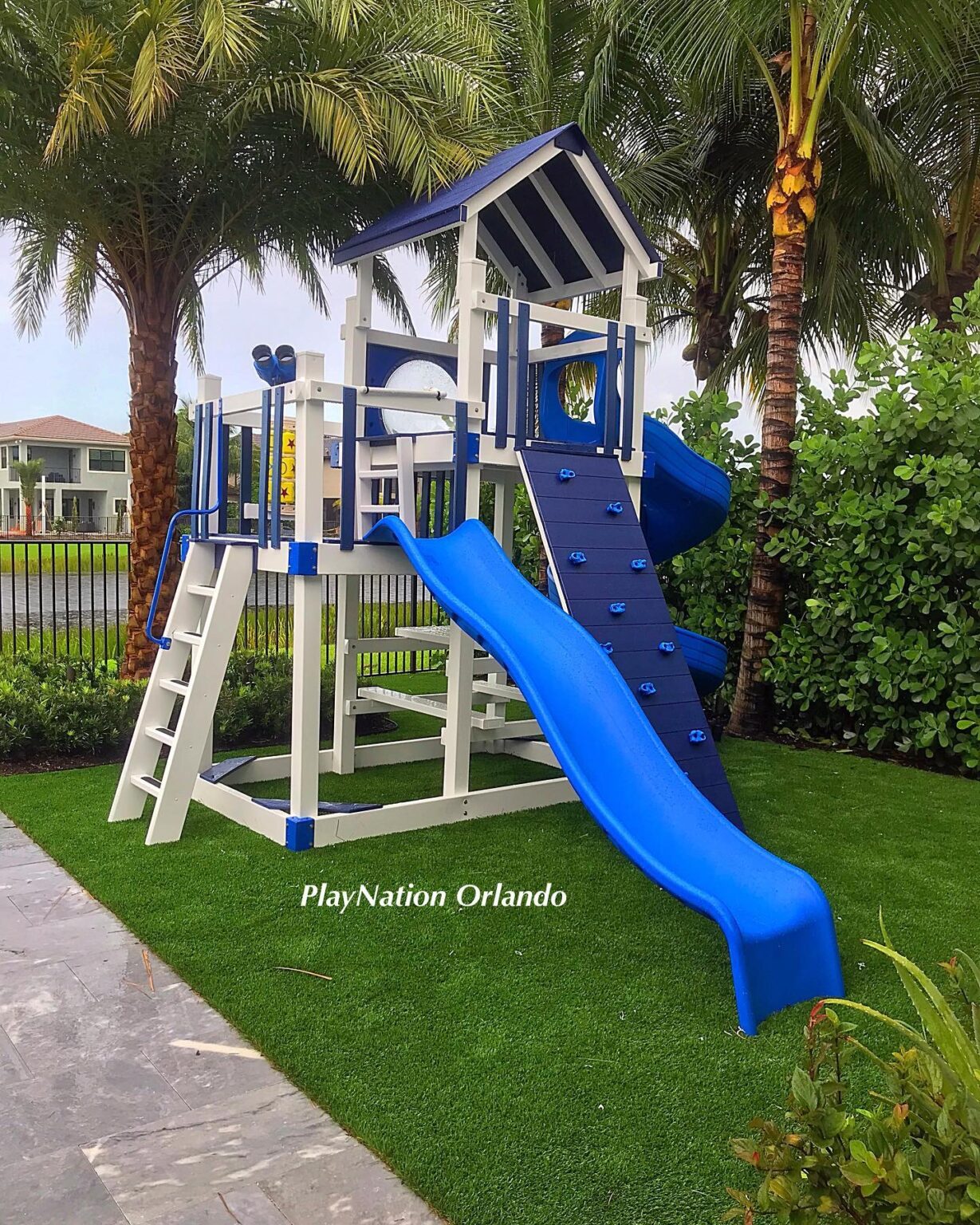 Our playset installation crews are some of the most experienced in the industry.
Our construction crews are factory certified. We are fully insured and can provide you with outstanding service and fast installation.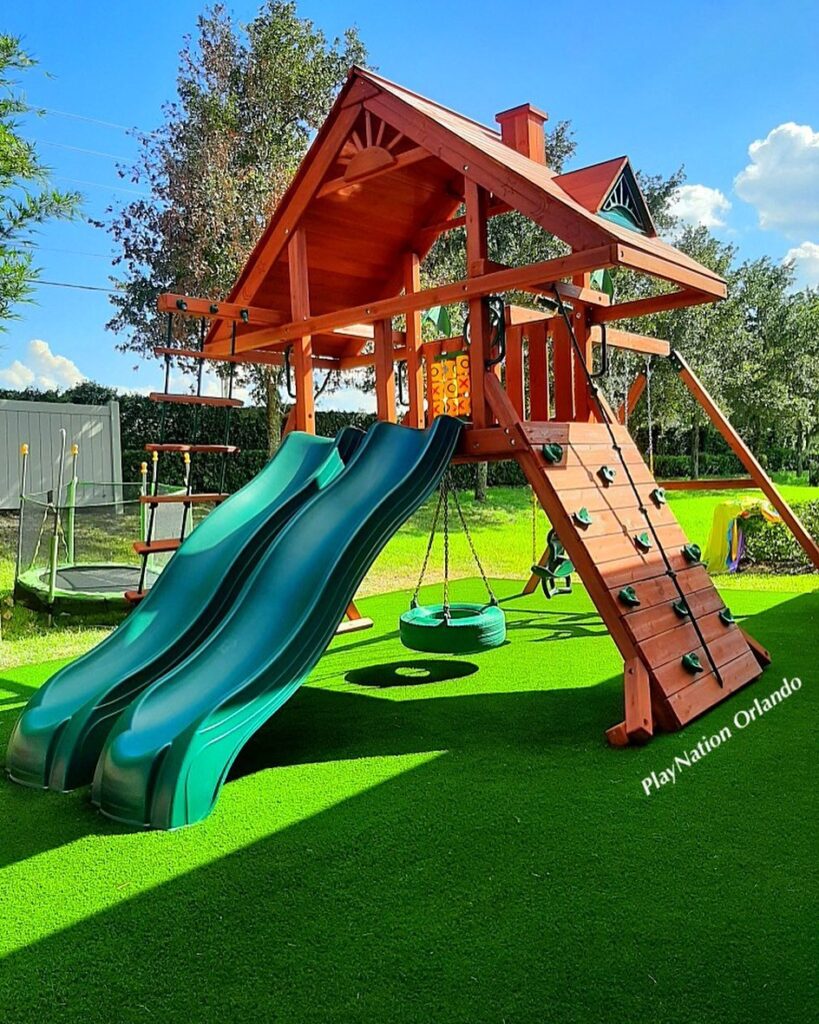 -Assembly can take anywhere from 6 to 24 hours depending on the size of the playset. It is recommended that a full 2 days is set aside for complete assembly. 
-We empty every box and identify each part on site prior to installation. 
-After everything has been laid out, we carefully check to ensure all parts are included and undamaged. *Important Note* Wood has natural defects such as surface cracks, knots, etc. We reject any parts that are structurally defective. 
-It is crucial that the installation site is level and square. If the main frame is unlevel then the floor and walls will be out of square. 
-Once the installation is complete, we ensure every bolt, screw, nut and board is secure. 
-The set should be at least 6 feet away from any structure or obstruction including but not limited to, houses, garages, fences, laundry lines, overhanging or low lying branches and electrical wires. 
-All scheduling is weather permitting!
Toucan Fort
Parrot Island Fort
Toucan Playcenter
5.4 Bengal Fort
7.0 Megadeck Fort
Backyard Odyssey Play Sets
Safari Playset
Capitol Peak Playset
Scottsdale Playset
Outing Playset
Quest Playset
Traverse
Trek
Vista
Wanderer
Weston Playset
Windsor II Playset
Woodridge Deluxe Playset
Woodridge Playset
Eastern Jungle Gym Swingsets
Dream
Dreamscape
Ultimate
Supreme
Supremescape
Extreme
Fantasy
Fantasy Treehouse
Sky
Backyard Adventure Playsets
Mountaineer – with Standard Accessories
Mt. Rainier Playset
Next Generation Playdeck Playset
Next Generation Tower Playset
Olympian Peak 1
Olympian Treehouse
Outing
Oxford Playset
Parkview Playset
Patriot II / Mountail View Playset
Patriot Playset
Prestige Playset
Passage
PlayMaker Deluxe
Acadia
Cavalier
Horizon
Horizon Tower
Acadia
Cayman
Dane's Den
Dogwood
Horizon
Horizon Clubhouse
Laguna
Dane's Den
Dane's Den w/Monkey Bars
Laguna Clubhouse
Dogwood w/Skyloft
Cimmaron
Wilderness Retreat
Wilderness Retreat
Adelade
Grand Summit
Riviera Deluxe
Dane's Den Deluxe
Five Star Deluxe
Reserve
Reserve II
Everest
Everest Extreme
Redbrook Space Saver
Redbrook
Outing III
High Point
Nantucket
Double Down
Chateau Duo
Chateau Tower
Frontier
Navigator
Sun Valley
Sun Climber
Sun Valley Extreme
Sun Climber Extreme
Chateau
Chateau Clubhouse
Mountaineer
Sun Palace
Sun Palace Extreme
Mountaineer Clubhouse
Riverdale
Pioneer Peak
Great Skye I
Great Skye II
Wilderness Gym
Wilderness Retreat
Sun Palace Deluxe
Sun Climber Deluxe
Sun Valley Deluxe
Five Star II Deluxe
Treasure Trove I
Treasure Trove II
Empire
Empire Extreme
Five star Space saver
Five star II swing set
Safari Lookout Playset
Monkey 1 Playset
Swing and Monkey 3PD
Safari Explorer Treehouse Playset
Cedar Mountain Playset
Cedar View Playset
Highlander Playset
Highlander w Monkey Bars Playset
Montpelier Playset
Pathfinder II Playset
Prescott Playset
Saratoga Playset
Skyfort II Playset
Sonora Playset
Tucson Playset
Woodland
Monterey Playset
Summer Stone Playset
Ridgeview Deluxe Playset
Barrington Playset
Ashberry 2 Playset
Grand View Deluxe Playset
Forest Hill Playset
Somerset Lodge Playset
Grand Valley Playset
Mt. Forest Lodge Playset
Abbeydale Playset
Shelbyville Deluxe
A-7 Deluxe
KRC Extreme
KTB-2 Turbo Tower
RL-1 Adventure
RL-1 Adventure
RL-10 Cliff Lookout
RL-2 Turbo Tower
RL-6 Combo Tower
A-1 Standard Climber
A-3 Deluxe
A-4 Special
A-5 Deluxe
KC-1 Clubhouse
KC-10 Economy
KC-3 Deluxe
KC-5 Deluxe
KC-7 Deluxe
C-1 Hideout
C-10 Hideout
C-2 Turbo Escape
C-3 Tunnel Escape
C-4 Hideout
C-5 Castle
C-8 Bridge Escape
SK-60 Cottage Escape
SK-10 Mountain Climber
SK-12 Mountain Climber
SK-18 Mountain Climber
SK-3 Mountain Climber
SK-30 Mega Climber
SK-4 Mountain Climber
SK-40 Rocky Mountain Climber
SK-45  Retreat Mountain Climber
SK-5 Mountain Climber
The Pirate's Palace
The Sea King
The Sailor Retreat
The Storm Chaser
The Captain Castle
The Starboard Escape
The Wave Rider
The Safe Harbor
The Captain Pearl
The Rocket Launcher
The Space Station
The Launching Pad
The Space Walk
The Shooting Star
The Eclipse
The Galaxy
The Care Bear Castle
Cubby Fort
The Wish Bears Dream
The Honeybear Hangout
The Fuzzy Bear Ride
Teddy Tower
Fanback Lawn Swing
E-18 Star ll
E-21 Star l
E-19 Asteroid
E-26 Star Cluster
E-24 Eclipse
E-33 Falling Star
E-32 Solar
E-30 Silver Star
E-29 Shooting Star Climber
E-28 Star Explorer
E-50 Wishing Star
E-52 Star Dust
E-53 Star Dust
E-81 Starburst
E-27 Comet
E-83 Galaxy Explorer
E-54 Nebula
E-63 Super Nova
Play Station
E-62 Play Station
E-90 Galaxy Star
E-64 Play Station
E-70 Super Star
E-36 Orbit Climber
E-31 Bright Star
E-40 Lucky Star
E-34 Orbit Nebula Climber
E-80 Milkyway Climber